Sale!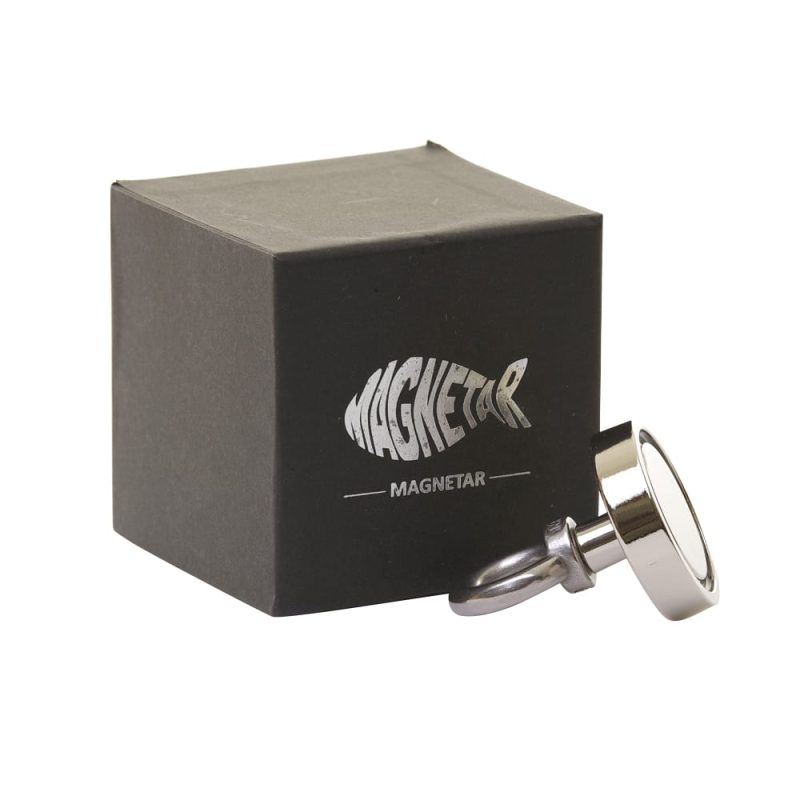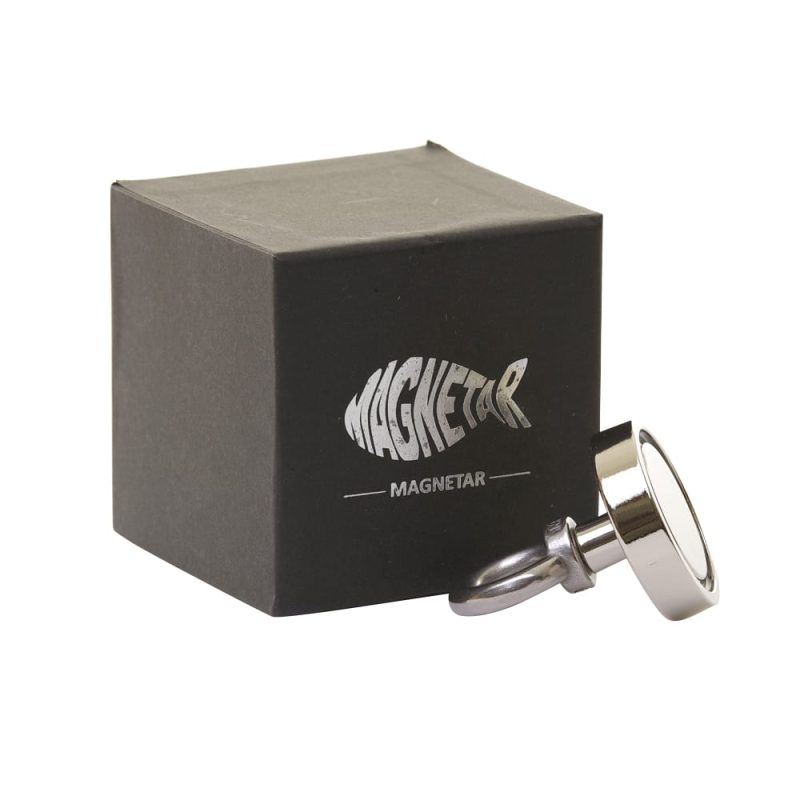 Classic Fishing Magnet 240LB/110KG
Safe for children, indispensable for water sports enthusiasts to bring lost items to the surface.
In stock
Based in the U.S. and EU
Free shipping available*!
Shipped the same day!
Worldwide shipping!
30-Day return period!
Customer Support within 48 hours!
Essentials and recommendations:
Attributes
Material

Neodymium

Weight

193 g / 0,4 lb

Diameter

Ø 48 mm

Magnet height

11,5 mm

Height with screw eye

30 mm

Screw eye

M8

Max. Temp

80° C
Product description
The classic 110 fishing magnet is a one-sided neodymium fishing magnet and has a maximum pull of 240 lb / 110kg. We recommend our classic 110 fishing magnet to children or people that simply need a magnet for once or a few times to fish their keys out of the water for example. We recommend a more powerful magnet for people who really want to get into magnet fishing.
Classic 110 fishing magnet 242 lb / 110kg
Are you looking for a small fishing magnet for you child? or did you drop something in the water which you need back? The Classic 110 fishing magnet is the way to go! This magnet is a small size for children, but powerful as well. 240 lb / 110kg sounds like a lot of pull, but the full pull will only be reached in perfect conditions. These conditions are: flat metal with a thickness of 2 cm, no rust and no mess between the magnet and the metal. You can pull 110kg straight up in these conditions.
Especially coins, keys and small treasures can be found with this magnet. Objects that are heavier than those cannot be fished out of the water. We believe that 240 lb / 110kg is just to light to really go magnet fishing. The pro about the classic 110 is that you can get a fishing magnet for a relatively low amount of money. Another pro is that children can discover if magnet fishing is a fun hobby for them. When you want to go magnet fishing without losing soil treasures, we recommend one of our more powerful magnets.
Want to get serious about magnet fishing? Then we recommend our stronger magnets. The Classic  300 and the allround 360° magnets Easy and Hardcore are excellent choices for the novice magnet fisherman who wants to be able to get hold of a wide variety of objects.
High quality
Our magnets are made from the best neodymium around. This will mean that our Magnetar magnets keep their magnetic pull and will only lose 1% of that pull in after 100 years! Most other suppliers sell magnets that will lose that kind of percentage in only a few weeks. More and more of those kind of low quality magnets are showing up these days. These magnets contain a low quality neodymium. They do this to lower the price and make the magnet look larger. When purchasing such a magnet you will be throwing away money.
All our magnets are personally drawn, and designed in a way in which you will get the most out of your fishing experience. We test our magnets with professional equipment so the amount magnetic pull we claim is accurate. We know exactly what the best way is to design a magnet, because of our experience in magnet fishing. You can experience this yourself with our high quality, powerful and reliable fishing magnets. Curious about the way we test the magnetic pull? Check our video here.
Caution!
Our neodymium magnets are extremely powerful and could latch onto metal objects with high speed when they are in close range. You definitely do not want to get your fingers in between. With some of our most powerful magnets you could easily shatter, break or get blisters on your fingers if your fingers get in between a magnet and a metal object. Always be careful when you use our magnets. Caution: Use of our magnets is at your own risk. Always read our safety warnings before use.