Sale!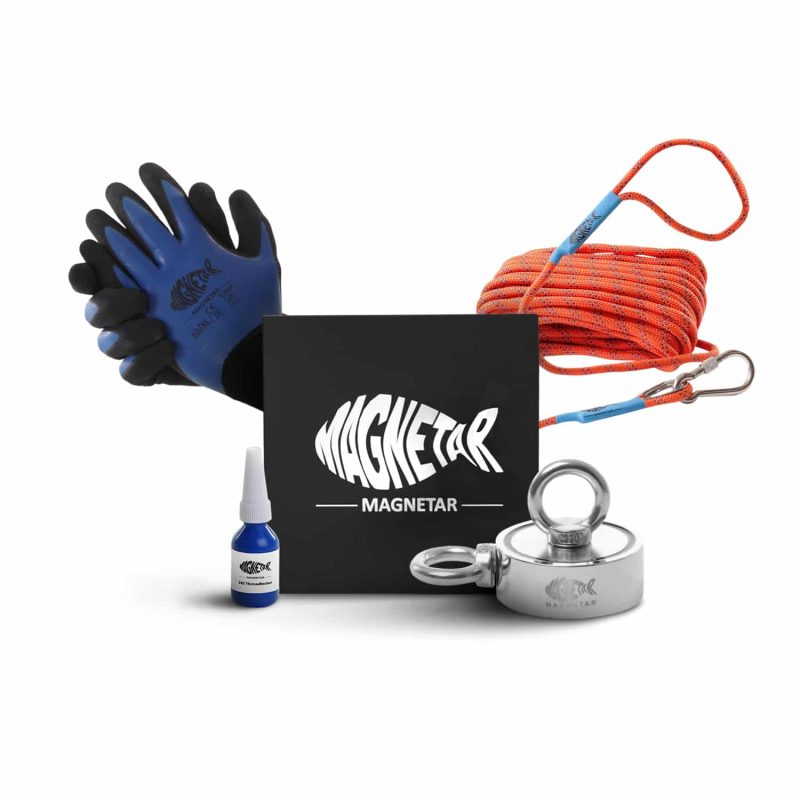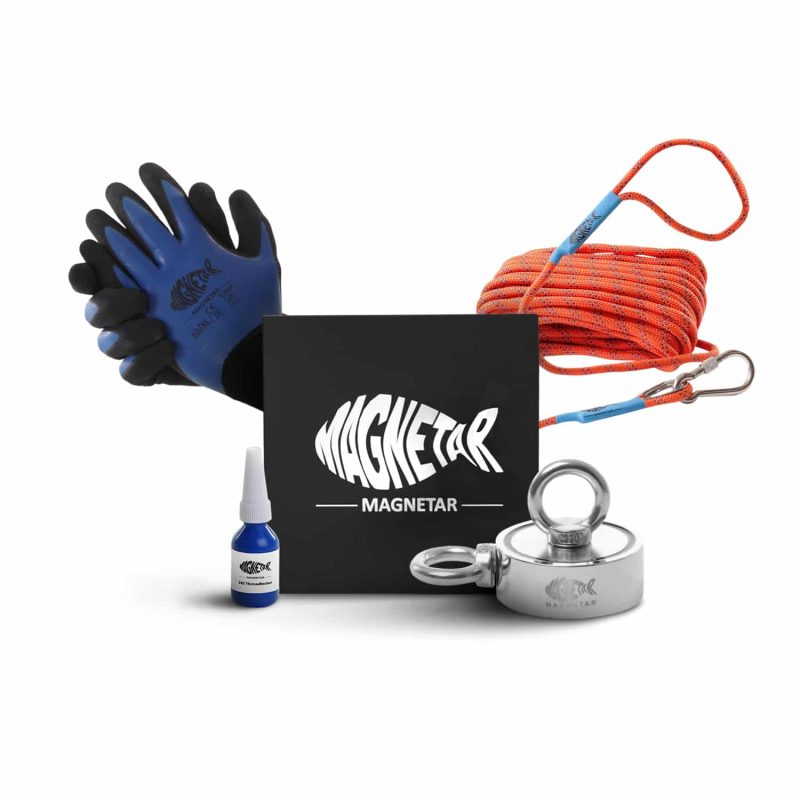 Double sided magnet kit – 1100lb/500kg – Bulldog
In stock
Based in the U.S. and EU
Free shipping available*!
Shipped the same day!
Worldwide shipping!
30-Day return period!
Customer Support within 48 hours!
Essentials and recommendations:
Attributes
Rope lenght

65 FT / 20 m

Rope item

Stainless steel carabiner

Glue

2ml bottle

Gloves

Pair of waterproof gloves
Product description
Are you looking to get kickstarted into magnet fishing? The Bulldog 500 magnet kit delivers just that. This all-in-one package contains everything you need to avoid any unwanted surprises at the waterfront. Our double-sided Bulldog 500 fishing magnet, gloves, a magnet fishing rope and metal glue are all included in this complete set. Looking for a 360° all-round magnet? Check out our Pro Package.
Bulldog 500 Double-Sided Fishing Magnet
All our Bulldog fishing magnets have two magnetic sides. The Bulldog 500 has a total magnetic pull of 1100 lb / 500 kg, effectively 550 lb / 250 kg per side. This magnet is strong enough to pull the most unique objects out of the water. Compared to single-sided magnets, the two magnetic sides of this magnet significantly increase the odds of finding great treasures.
Double-sided magnets can be used in several ways. If you like to pull the magnet flat through the water —yielding a higher chance of clinging onto treasure— the eye bolt can be mounted on the magnet's side. The magnet's two magnetic sides result in the fact that there is always a magnetic force directed towards potential treasure laying on the bottom. The disadvantage is that the horizontal motion of the magnet exercises less of a pull on the objects found. Vertical fishing, on the contrary, always delivers a more optimal magnetic force.
When you are onto something and want to use greater force, the eyebolt can be attached vertically. This facilitates a stronger vertical force to pull up heavier objects, practically the same way as with our classic magnets. The versatile use of the double sided magnets, attached to an  , make them the most multi-functional magnets we offer.
Is the double-sided magnet what you are looking for, but do you have concerns about its strength? Check out our Bulldog 800. This is a heavier and stronger model with a total combined pulling force of a stunning 1760 lb / 800 kg. Do you prefer a 360° all-round magnet? Have a look at the Terror. Don't forget to checkout the best magnet fishing kits or our magnet fishing gear.
High quality
All of Magnetar's fishing magnets are made of neodymium. This material ensures a long-lasting magnetic force. With proper use and storage, these magnets only lose one percent of their force in 100 years. That is why we are certain that we offer the highest quality fishing magnets on the market.
Over the past years, the market has been flooded with low-quality products. Many fishing magnets by other sellers are often seen to lose their force within weeks. Generally, we see bigger size magnets, but made of lower quality neodymium which are marketed with misleading ads. These kinds of products might seem cheap, but will leave you dissatisfied in the long run.
Magnetar is a small family-owned business of real magnet fishing fans. Quality comes first with us, and that is reflected in our products. All of our fishing magnets are designed in-house to ensure high-end products. Are you looking for a reliable, effective and quality fishing magnet? Look for a Magnetar!
Warning:
Our neodymium fishing magnets are very powerful. This may cause other objects to be pulled towards the magnet at high speed. Obviously, this leads to potentially dangerous situations, as fingers might get caught between the magnet and an object. We recommend that you always handle these magnets with care and underline that you do so at your own risk. Read our safety warnings before use.