About Magnet Fishing
How to install protection cover on magnet?
Please install the protective cover as shown on the picture below. You do not need to use the supplied rubber. This one is for use without a cover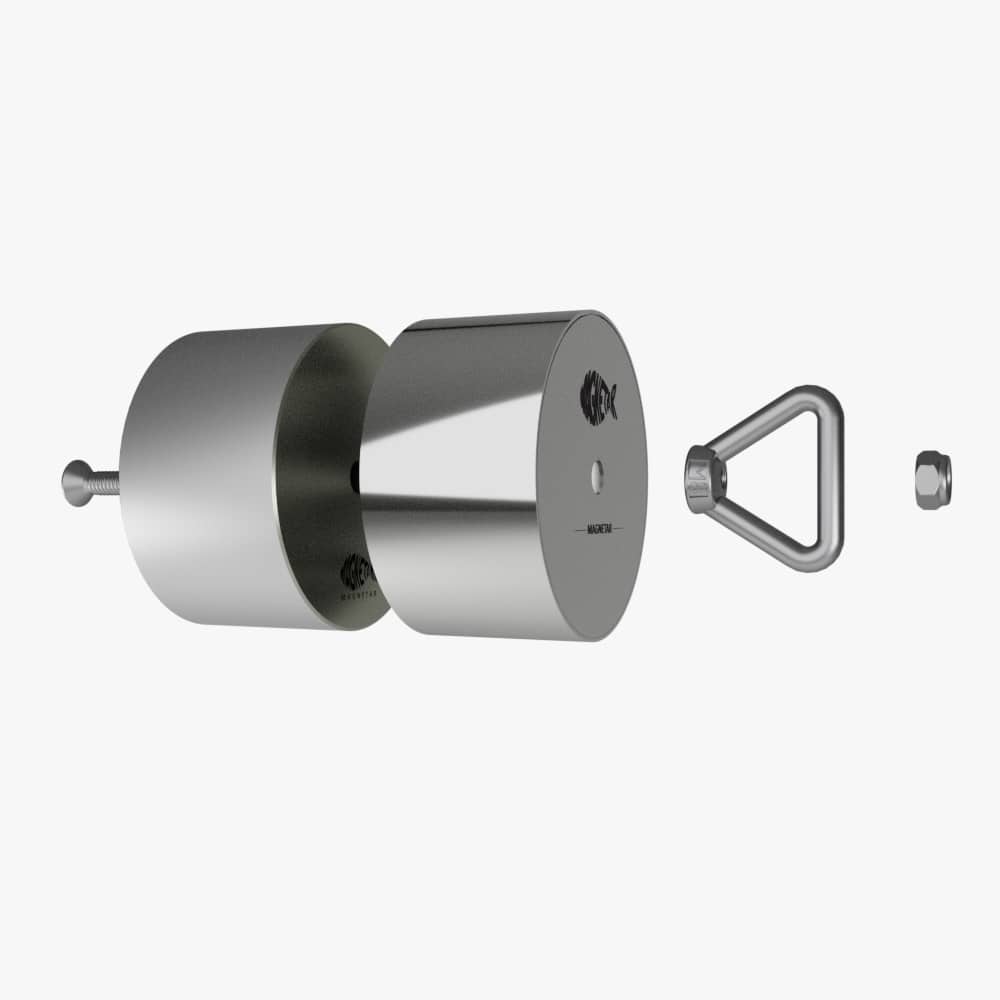 What is magnet fishing?
We might be a bit biased in saying that magnet fishing is the most fun and exciting hobby out there. Magnet fishing simply involves attaching a magnet to a rope that is thrown in the water. Once you throw the magnet into the water you will experience the thrill of finding hidden treasures underwater – coins, tools, hardware, items that may help in a police investigation and much, much more! Everyone can do it but of course it helps if you have a high-quality Magnetar fishing magnet. What will your next catch be? Exciting!
Read this blog post before you get started with magnet fishing.
What are the best places to go for magnet fishing?
To start, look for a place along the water where you will find a lot of foot-traffic. Some examples include: ponds, docks, piers, marinas, city canals, tubing routes, bridges and other waterways. You can use Google Maps to research bodies of water in the area you are visiting and choose a spot where you think items would be likely to fall into the water from tourism, patio tables, pedestrians, recreational activities, and more! Finding the right spot is half the fun.
What can you catch with a fishing magnet?
You can find all sorts of items in the water – lost cell phones, tools, safes, horseshoes, war helmets and even pistols. The more powerful your magnet is, the more items it will be able to attract. View our Beast magnet here! Note: this magnet is only suitable for professional magnet anglers.
Which fishing magnet is right for me?
Take a look at our Buying Guide to help you with your decision.
Which rope do I need with my fishing magnet?
We offer three sizes of quality ropes: ¼" / 6mm, 1/3" / 8mm and 0.40" / 10mm rope. The size of rope depends on the strength of the magnet and the weight of the items it can carry. Each magnet comes with an introductory guide that details which rope is recommended for your magnet. Our Orange Ropes are known for their strong grip, high pull power and visibility (so you won't lose your magnet!). View all fishing ropes for magnetic fishing here.


How do you tie rope to the magnet?
Check out the step-by-step plan for attaching your orange magnet fishing rope to the magnet below:
Retrieve the Magnetar fishing rope from the package and take out your fishing magnet;
Push the rope through the eye of the magnet;
Pull the rope underneath the magnet before magnet fishing;
Pull the rope. In this way the rope will tighten itself. Go magnet fishing!
Caution: Are you attaching the rope and the magnet with a carabiner? You can, but make sure that the eye is attached to the magnet with locking glue. Tighten the eye firmly. The magnet has more room to move because of the carabiner, so make sure to tighten the eye properly.
Caution: Do you have a bigger allround magnet and doesn't the loop fit like above into the eye of the magnet? Then please cut the loop with a knife and look at this video.
Is there a rope supplied with the purchase of a loose magnet?
No, our Orange Ropes are sold separately or with the purchase of a Magnet Fishing Kit. We offer kits for Beginners, Advanced, Professionals and Children.
Why do I need a hook for magnet fishing?
Some items that you find while metal fishing are not made of magnetic materials (for example, the aluminum parts of a bicycle). Our Stainless Steel Throwing Hook will help you retrieve more items and therefore make your magnet fishing experience even better. Discover other magnetic fishing accessories here.
Do I need to add extra weight to the magnet?
This is not necessary. The magnets weigh more than 0,55 LB / 250g and have enough weight of their own to sink well.
I've caught something! Now what?
When you use a high pull-strength fishing magnet, it may get stuck on the item. If this happens, we advise that you pull the rope in the opposite direction so as to not break the magnetic hold on your new item. The pull strength of the fishing magnet is strongest when it is perpendicular to the object it is attached to. When you pull the magnet diagonally, the magnet will have less traction and the magnet may release its hold.
Learn more about how to use a fishing magnet safely here.
---
Magnetar Magnets
What makes a Magnetar magnet so good?
We have been offering powerful neodymium fishing magnets made of the best material for over 9 years. Our magnets are specially designed to optimize catches with powerful 360º magnetic fields. Most of the treasures found by fisherman are raised with Magnetar's magnets. We fish ourselves, so we know the importance of using a high-quality, long-lasting magnet. From our experience and listening to our customers, we have developed magnets that work. We test all our fishing magnets and with most magnets, you get 90 LB / 40kg more than promised! Read more about the quality of our magnets here.
How is the pull strength calculated?
Maximum pull strength is achieved under ideal conditions: a 0,8" / 2cm thick plate, perpendicular alignment and no dirt between the magnet and the iron plate. Pull strength decreases if the metal is thin or rusty, if there are curves or oblique movement and if there is dirt between the magnet and the object. We observe an error margin of 20-60 LB / 10-30kg for magnets; meaning that under ideal conditions our fishing magnets can have up to 60 LB / 30kg more pulling power than what is stated.
Does my fishing magnet lose pull-strength?
Our magnets do not lose pull strength on their own. Factors that can influence and reduce the pulling strength are temperature and magnetic fields. Proper consideration and drying your magnet after use will help to preserve the quality and strength of your magnet over time. Neodymium magnets cannot be exposed to temperatures above 175°F / 80ºC. For more information related to magnetic fields, view our pull strength measurement here.
What is the difference between Neodymium and Ferrite?
Neodymium and Ferrite are both magnetic materials but Neodymium is 8 to 10 times stronger than Ferrite, making it a more expensive material. We use Neodymium for our fishing magnets because it is higher-quality and yields better results.
Is drilling or sawing in magnets possible?
We do not recommend drilling or sawing in fishing magnets/Neodymium magnets yourself for the following reasons:
– Neodymium is brittle so your magnet can break quickly
– The drilling dust is highly flammable
– Splintering with flying neodymium can occur
– Friction can create heat that can demagnetize magnets
– The coating can be damaged and corrosion can strike faster
Why does the coating come off?
Our magnets contain a thin coating (nickel-copper-nickel) to protect against corrosion. This layer is so thin that is does not affect the pull power of our magnets. The coating may flake off or get small cracks in it due to underwater collisions and conditions. This is not a lack of quality, but a reality of magnets. If the coating starts to wear, the magnet will not lose pulling strength. Proper care and maintenance of our magnets are the best ways to protect them against damage.
How can I contact Magnetar?
You can contact us by e-mail info@magnetarmagnets.com or by phone or WhatsApp at +(31)6 51681066.
Can I become a Magnetar Affiliate?
Earn more! Become a Magnetar Affiliate!
What does being a Magnetar promoter entail?
As an affiliate, you belong to our Magnetar promotional team. Register, receive a link, and share it with people who are interested in magnetar fishing. Via this link, you earn money to spend in one of our webshops. And the nice thing is, you can start using it right away!
How do I register?
Register as a Magnetar affiliate by joining our affiliate program. After this, your registration will be reviewed and hopefully approved. Register using the link below:
https://magnetarmagnets.com/affiliate-signup/
How does it work?
After approval of your registration, you can get started sharing your personal link right away. Not only that, you will also receive a 10% discount code. This discount code makes it extra attractive for your contacts to order through your link. This way, you give them and yourself something extra.
How much money can I earn?
All your sales can be found in your personal affiliate dashboard. You will receive 5% shopping credit over the total amount. This way you can keep your hobby affordable! Are you going for a free Terror, Beast or Barbarian magnet?
How do I get paid?
This is very simple. Do you see that you have enough credit in your dashboard? And would you like to receive your shopping credit? Send an email to info@magnetarmagnets.com and receive your digital discount code for the credit you earned!
Will you be part of #teammagnetar?
---
Shipping & Returns
What carrier will deliver my order?
The carrier depends on the location of each order. For more information related to shipping in your country, e-mail us at info@magnetarmagnets.com.
How to return my order?
If you experience any problems with your order and have not used the item, you have the option to return it within a period of 30 days after receipt. The confirmation order must be included in the package of your return. We will process a full refund for your purchase within 10 days of receipt of the return provided it meets the above conditions.
Returns from USA can be sent to the following address:
Simple Global, Inc.
620 Centerpoint Blvd
New Castle, DE 19720
USA
The customer is responsible for the cost of returning an item, unless it is an incorrectly delivered item. If you have any questions about the return, please contact us via the contact form.
Returns from EU can be sent to the following address:
Active Ants
Magnetar Retouren
Borchwerf 5
4704 RG Roosendaal
The Netherlands
The customer is responsible for the cost of returning an item, unless it is an incorrectly delivered item. If you have any questions about your return, please contact us via the contact form.
What are the shipping prices?
Currently you can find our shipping prices here.
What is our average delivery time?
Countries and Continents
Shipping costs
Delivery time
United States*
Free shipping
2/4 Business Days
Ordered before 2pm EST? Shipped the same day!
Canada*
(Document costs to be paid by the customer)
Free shipping
3-8 Business Days
Ordered before 2pm EST? Shipped the same day!
Australia, New Zealand
Free shipping (above $80)
2/4 Business Days
The Netherlands, Belgium,
Germany, Austria
Free shipping
Next Day /
2 Business Days
Luxembourg, United Kingdom
Free shipping (UK: Excl. import tax)
3/4 Business Days
Europe with document costs:
Bosnia and Herzegovina, Bulgaria, Norway, Cyprus
Serbia, Switzerland
€14,94
3/5 Business Days
Europe: Denmark, Hungary, Ireland, Lithuania, Malta,
Italy, Poland, Portugal,
Romania, Slovenia, Slovakia, Spain, Czech Republic, Sweden
€8,99
3/4 Business Days
India
Free shipping (above ₹8800)
2/4 Business Days
* Shipments may be delayed due to 'supply chain' issues among all carriers
Didn't find the right answer in our FAQ? Please contact us by sending an e-mail to info@magnetarmagnets.com