Sale!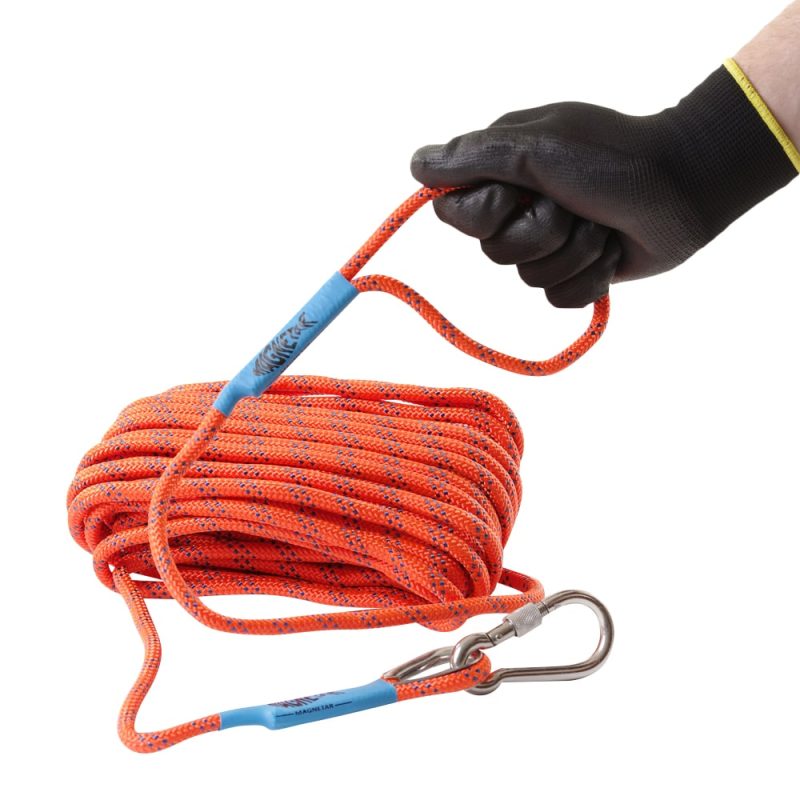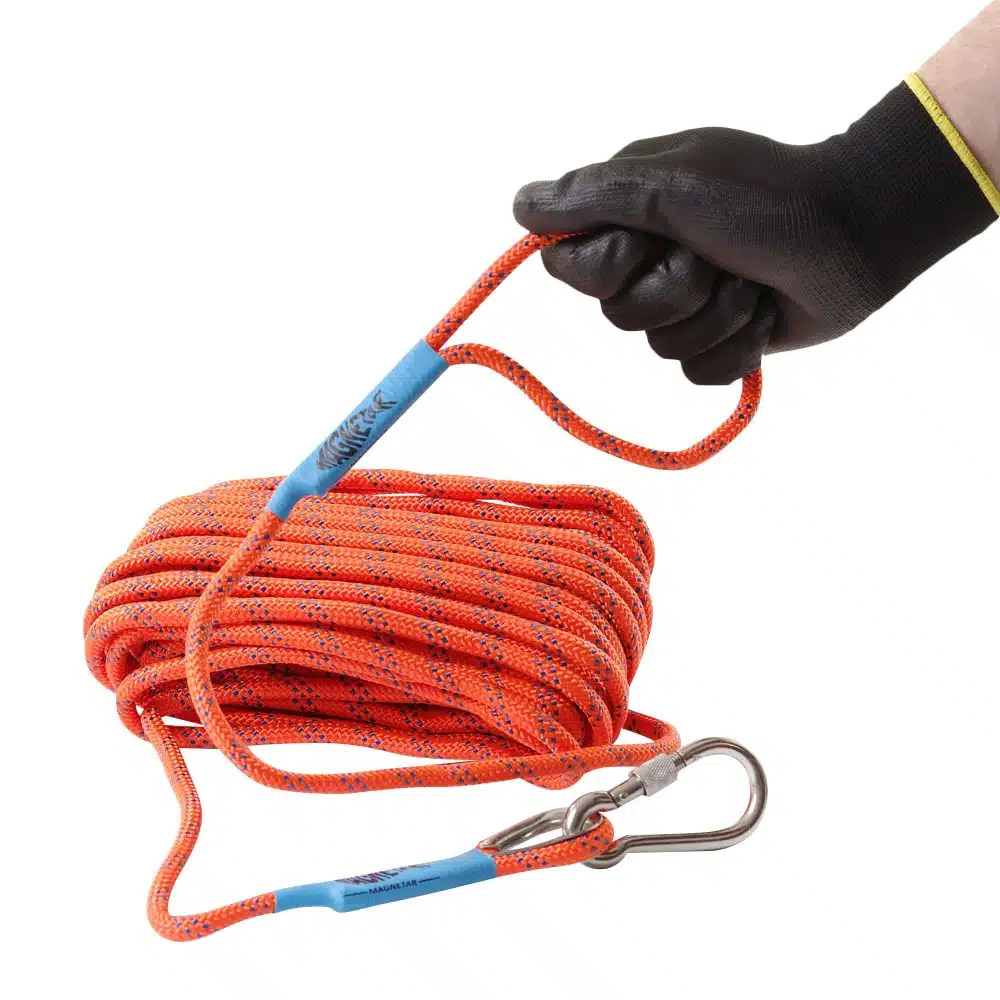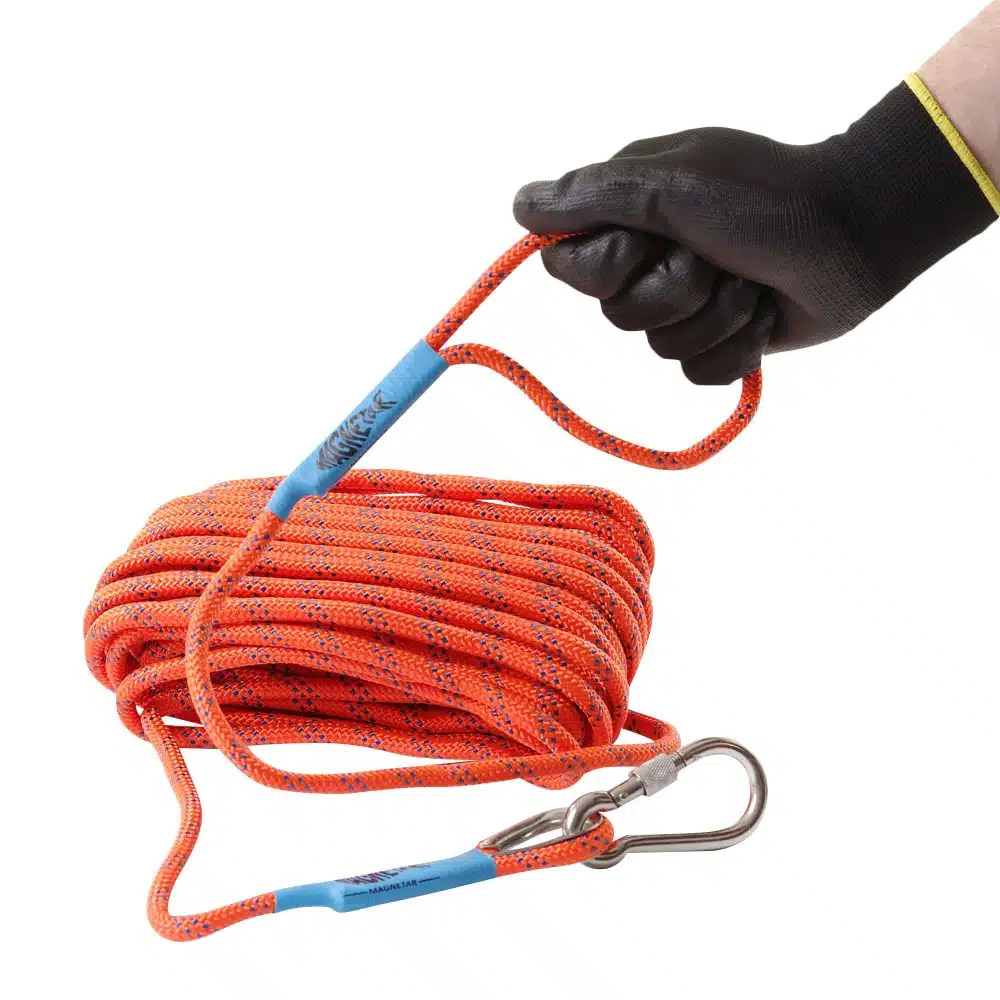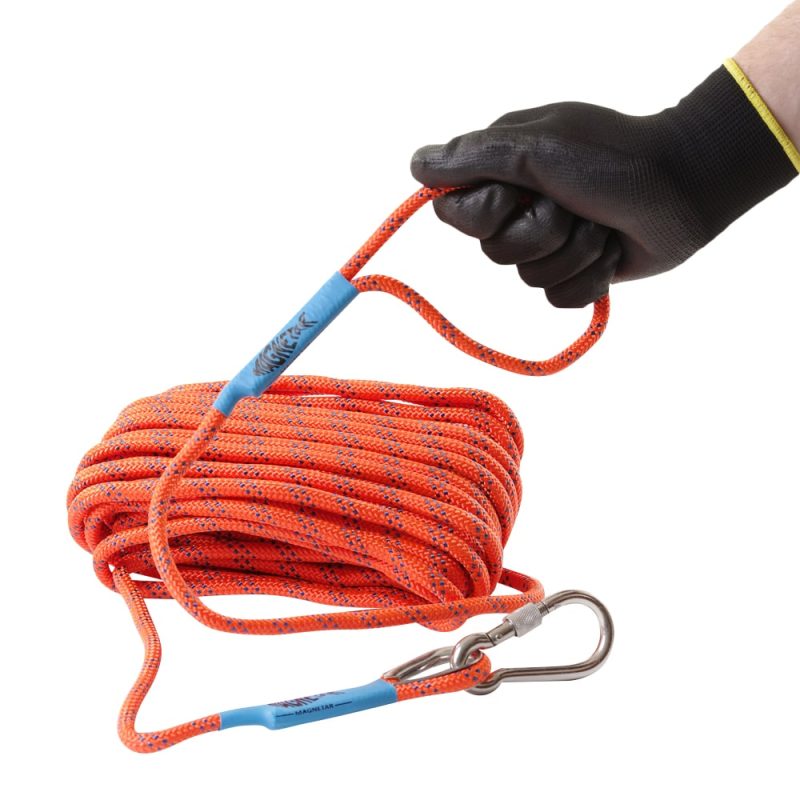 Magnet fishing rope || 65 feet / 20 meters
$16.99 – $22.99
Specially designed fishing magnet rope with barrel and carabiner. No more knots and 100% quality guarantee.
Based in the U.S. and EU
Free shipping available*!
Shipped the same day!
Worldwide shipping!
30-Day return period!
Customer Support within 48 hours!
Attributes
Strength 6mm

720 KG - 1587 LBS

Strength 8mm

1300 KG - 2866 LBS

Strength 10mm

2000 KG - 4409 LBS

Length

65 Feet - 20 Meter

Materials Rope

100% Polyester

Materials Carabiner

100% Stainless Steel (Non-Magnetic)

Elasticity

Not Elastic

Wear resistant

Yes

Water resistant

Yes

UV resistant

Yes

Weaving Technique

Double Braided

Attachment

No Knot or Carabiner needed - See Product Description
Product description
The best rope for magnetic fishing. Double braided rope lifts up to 4000 lbs. Watch this YouTube review. Free carabiner with purchase & free shipping to select…
The rope or line is one of the essential parts of magnet fishing. The magnet fishing rope must have enough strength to carry even heavy metals and should not break when snagged. The same as buying a high quality fishing magnet you will have to make sure that you buy a good magnet fishing rope. A magnet fishing rope is a rope that you attach to your magnet. If you want to pull metallic objects out of the water, you have to need a magnet fishing rope that has a high pulling force and a length around 65ft/20m long. 
Magnet fishing rope, why do I need one?
Most magnet fishermen tend to focus only on buying the best magnet for magnet fishing. The second most important piece of equipment that can determine success in magnet fishing is the rope.
What to look for in a Magnet Fishing rope?
It is really important that you buy strong, non-elastic double braided rope because otherwise there is a big chance that you will lose your magnet in the water. A cheap or elastic rope line will not securely hold onto the magnet and it may get loose in the water due to contact with sharp objects, edges, or the rope may break. 
Ropes for magnet fishing should have a high pulling force. A longer rope will allow you to throw your magnet far into the water and pull it towards the shore over and over again. Most magnet fishers will say that the perfect length is around 65ft/20m long. 
It's always nice when you get a rope specifically designed for magnet fishing, instead of using a climber's rope to make do. Magnet fishing ropes will have more qualities than you need when you go out to magnet fish. 
How do I use the rope?
Check out the step-by-step plan for attaching your orange rope to the magnet below: 
Retrieve the Magnetar fishing rope from the package and take out your fishing magnet;
Push the rope through the eye of the magnet;
Pull the rope underneath the magnet before magnet fishing;
Pull the rope. In this way the rope will tighten itself. Go magnet fishing!
Caution: Are you attaching the rope and the magnet with a carabiner? You can, but make sure that the eye is attached to the magnet with locking glue. Tighten the eye firmly. The magnet has more room to move because of the carabiner, so make sure to tighten the eye properly. 
Caution: Do you have a bigger allround magnet and doesn't the loop fit like above into the eye of the magnet? Then please cut the loop with a knife and look at this video.
You can tie a Palomar knot from the end of the rope to the magnet. This may not hold up in all conditions. We prefer to use a strong carabiner, which is why we include one with every rope purchase. 
Watch this video to see how renowned Magnet Fishing A to Z uses our orange rope with our allround 360° magnet. 
I have a Neodymium magnet and rope, do I need anything else to go magnet fishing?
If you have a strong magnet and a grappling hook, make sure you have two ropes so you can use the magnet and hook at the same time. For the best possible grip you will want to wear proper gloves. Gloves aren't necessary but they will help protect your hands against rope burns, blisters, dirty water, and shards. 
What makes Magnetar the best rope for magnet fishing?
Magnetar's strong rope is clever in design so that it is easy to use. Some features that make this the best magnet fishing rope:
Materials: non-elastic nylon for durability and polyester reinforcing wires for added strength
Strength: able to lift heavy objects due to extremely high breaking force (our 10mm rope can lift up to 4400 lbs!)
Quality:  resistant to mildew, UV rays, rotting, and water
Usage: it is an all purpose rope. 
Add-ons: we include a stainless steel carabiner with every purchase of a rope.
As we outlined earlier, you will need a sturdy rope to pull up any treasures you stumble across. You can use any old rope, but a specific magnet fishing rope will ensure that you get your object and magnet out of the water safely.  
Magnetars rope offers you all these benefits plus a free carabiner with every purchase. No more knots and 100% quality guarantee! A ready-to-use rope with the perfect length and a high pulling force.
What is the maximum weight my rope can lift?
6mm rope = 1587 lbs

8mm rope = 2866 lbs

10mm rope = 4409 lbs
Buying a magnet fishing rope, what to focus on?
If you are looking to buy good rope for magnet fishing, make sure to look at the material, size and design of the rope. 
1.Materials: 100% Polyester double braided woven ropes are the best ropes for your magnet fishing needs because they are durable and strong, designed for maximum tensile strength so you will never lose your treasure again. 
2.Size: The diameter should be at least 6mm. 
3. Design: To ensure long-lasting use, make sure the rope is UV, water, and wear resistant.
Magnetar fishing rope meets all of the above criteria. As a small team of magnet fishing enthusiasts, we were very specific in selecting the design and characteristics of our signature orange rope. 
What makes a good magnet fishing rope?
A dynamic rope resistant to changing conditions: wet, dry, extended, rolled up for the season

Long enough to find treasures in the water: at least 65 ft/20m long

Maximum tensile force: at least 1587 lbs

Added bonus if it is brightly coloured so you never lose your magnet!
FAQ
What is a Magnet fishing rope?
If a magnet is essential to finding treasures, a rope is essential for pulling them to shore. Whether you are magnet fishing in calm waters, rocky waters or behind a boat, you need a rope to pull your item to shore safely, securely and without breaking. 
The rope is the second most important accessory in magnet fishing. A lot of people will invest in a high quality magnet and then use their decade-old rock climbing rope to save money. This might work, depending on your treasurers, but you run the risk of losing the magnet you just invested in. 
If you buy a high quality fishing magnet it is important to also buy a high quality rope. One that has tensile strength for lifting heavy objects, polypropylene outer skin for durability and is lightweight enough that you can toss it into the water.
What kind of rope do you use for magnet fishing?
Over 10,000 magnet fishermen across Europe and North America use Magnetar as their core rope. 
The most suitable types of ropes for magnetic fishing are static ropes because of their limited stretching ability. Static rope enables you to pull items the magnet has captured with ease, thus saving your time and energy. So make sure the rope is not elastic. 
We offer the best design, high quality materials, a FREE CARABINER WITH EVERY PURCHASE and everything you need to retrieve any and all objects from the water.
Why is Magnetar's rope better than other magnet fishing ropes?
In a word, our polyester rope is reliable.
Regardless of weather (wet/dry), body of water (calm, stormy), sharp edges underwater (rocks, nails, glass) and strong enough to support the weight of heavy objects (up to 4409 lbs), our orange rope is extremely durable in all conditions. The rope also has an easy-knot design that makes more natural knotting for your magnet and easier to use than other ropes. Our rope is perfect for magnet fishing and comes complete with a stainless steel locking carabiner. Lastly, the syiswei nylon fishing rope design is thicker to avoid breakage during use. 
We all want a rope that we can rely on for retrieving important objects from the water, including our fishing magnets, and this is the best rope for the job.
When will it be delivered and what is the delivery fee?
In the United States and in Canada you offer free delivery. Your order will be sent the same day and you will receive it in 2 to 4 working days. In Europe, we offer free delivery and fast shipping to people that order from The Netherlands, Belgium, Germany Luxembourg, and Austria. In the United Kingdom we also offer free shipping, but please remember that you will have to pay import tax. Are you ordering from another country? You will receive your order within 4 working days. Please take a look at the prices of the shipping info page.
Don't forget to checkout our magnet fishing kits.