Sale!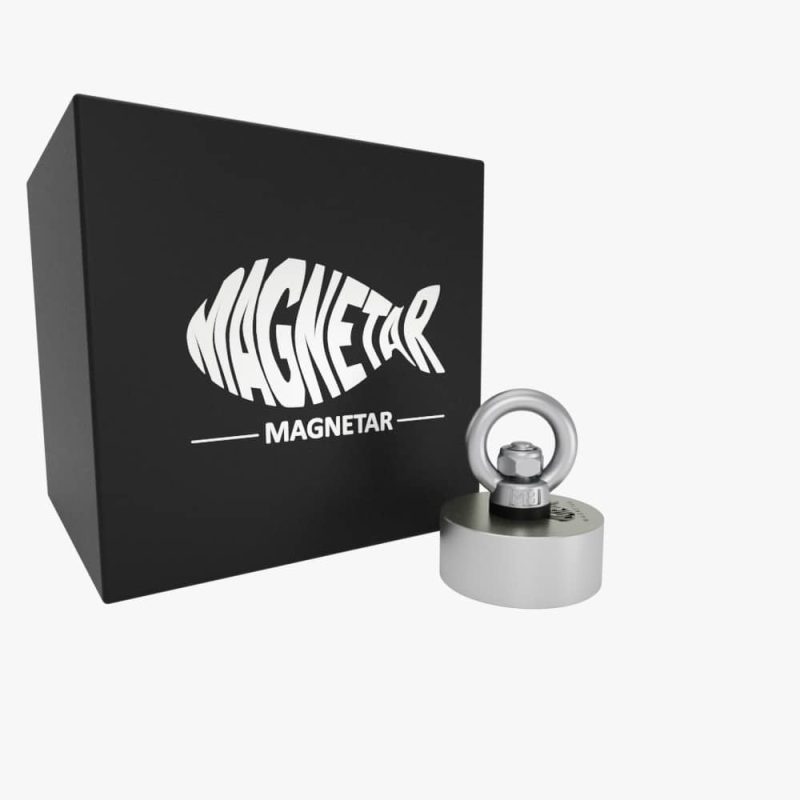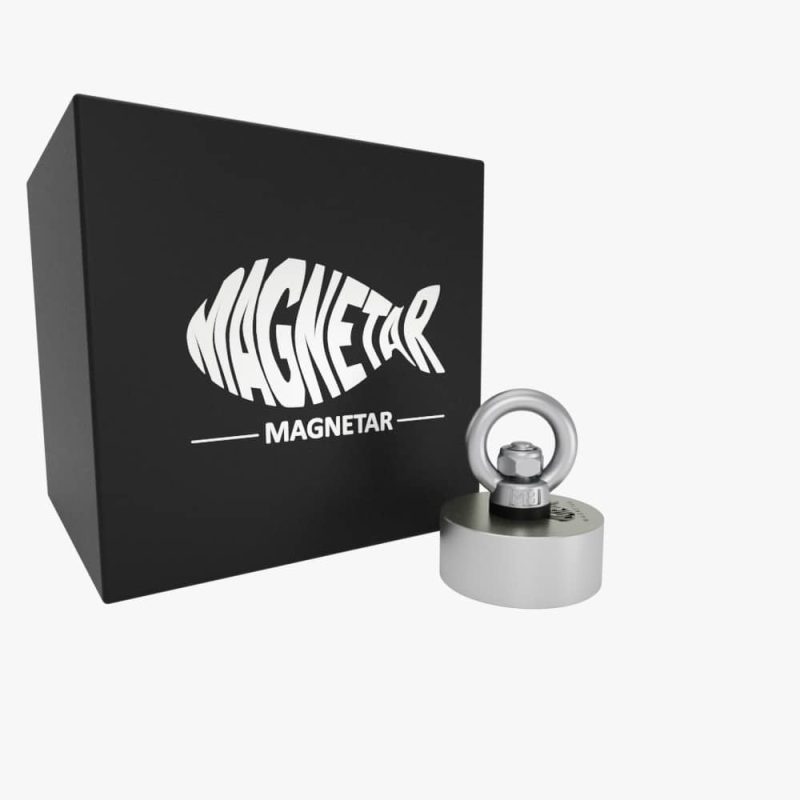 Easy Magnet – 600 lb / 280 kg – Allround 360°
A revolutionary 360° children's magnet with far-reaching allround attraction. Designed by Magnetar, this pure Neodymium Magnet has a pulling force of up to 600 lbs (4 sides x 150 lbs) and is perfect for little kids with big magnet fishing dreams. The next time you take your child out for an adventure you will be sure to find exciting treasures and make memories that last a lifetime.
In stock
Based in the U.S. and EU
Free shipping available*!
Shipped the same day!
Worldwide shipping!
30-Day return period!
Customer Support within 48 hours!
Essentials and recommendations:
Attributes
Pull force kg 4 sides

4 X 70 kg = 280 kg

Direct pulling force

150 lb / 70 kg

Distance attraction

4 inch / 10 cm

Magnet type

Allround 360°

Material

Neodymium

Diameter

50 mm Ø

Magnet height

20 mm

Weight

0.6 lb / 280 g

Screw eye

M8
Product description
* Protect the magnet with a protective cover during fishing. Without a protective cover, damage to the magnet can occur when hitting hard objects. The protection cover is not included with the magnet.
The Easy Neodymium Fishing Magnet
Are you looking for your first fishing magnet to get 'hooked' on the hobby? The easy magnet is perfect for you! With its light casting weight it offers great catching opportunities at an affordable, introductory price. Perfect for novice magnet fishermen who want to know if magnet fishing is for them before investing in a heavier duty magnet. The Easy is good for spotting coins, horseshoes, bullets, pistols, knives and other smaller objects.
The Easy fishing magnet is an allround fishing magnet with magnetic attraction on all sides and a pulling force of 600 lbs (150 lbs x 4 sides). The Easy fishing magnet is the smallest variant in our Exclusive range and is perfect for magnetic anglers who want a great catching opportunity at a low price. The Easy fishing magnet is the smaller sibling of our Hardcore fishing magnet but is similarly aggressive in its search results. 
Are you looking for your first 360° fishing magnet?
The easy magnet is the smallest version of the allround fishing magnet. We made this magnet for entry-level magnet fishermen who want to enter into the most powerful magnet range at the most affordable price point. Do you want a stronger allround fishing magnet? Then take a look at our Hardcore, Terror or The Beast fishing magnet. If you are new to magnet fishing then consider buying our magnet fishing kits. 
Magnet Evolution
Many magnets only have an attractive force on one side of the magnet. This single sided magnet is the classic fishing magnet. Magnetar was the first company to redevelop this classic magnet into a double sided magnet. Then in 2016, Magnetar developed the allround fishing magnet with 360° magnetic pull. Magnet fishermen across the EU have been drawn to our 100% Neodymium magnets ever since, making us the #1 supplier in Europe. Our magnets are made of the highest quality, design and care by a small team of magnet fishing enthusiasts. Our customers keep coming back because they know with Magnetar they will get more than a magnet, they will catch treasures.
Powerful 360° pulling force
The Easy magnet is one of the strongest magnets that we offer. The pulling force of a single-sided magnet cannot be compared to a pure neodymium 360° magnet like this magnet. The steel casing of the single-sided magnet influences the pulling force and the pulling force is targeted in one direction. This allows the single-sided magnets to achieve high pull forces on flat metal plates on one side, but our exclusive Allround 360° magnet attracts objects from "all around" as the magnets have a magnetic pull force of the entire surrounding area. Curious about our pull force measurement? Watch our video here. 
High Quality
Our fishing magnets are made of Neodymium. Magnetar magnets retain their magnetic pulling power for decades with only 1% lost every 100 years (with proper storage, care and protection). 
Most other magnet providers already show pull strength loss after a few weeks. Over the past few years we've noticed there are more and more low-quality magnets on the market: bigger magnets with lower pull strength, low-quality neodymium, false advertising. When you buy one of these magnets at a lower cost or from a big conglomerate company you will end up being disappointed even though you saved a bit of money. 
Magnetar is a small, family-run business that puts quality first in everything we do. We are magnet fishing enthusiasts and all of our magnets are drawn, designed, and made by our team to ensure that you get the most bang for your buck (or treasures from your magnet!). If you want a reliable, effective and powerful fishing magnet you have come to the right place. Our team would be happy to hear from you, contact us here. 
Protection Cover
Protection covers are the perfect accessory for magnet fishermen who want to protect their neodymium magnets during use. These durable covers are specially designed to fit perfectly on the magnet and provide an extra layer of protection against scratches, breaks and other types of damage. Our protective covers are built to last and can withstand the toughest conditions. The protective cover is made of stainless steel. This ensures that your magnet remains magnetic 360°. With our protective covers, you can enjoy magnet fishing without worrying about damage to your valuable fishing magnet. The cover can be added seperately to this magnet.
(Please be aware that the bottom of the magnet is not protected by the cover)
Use with Caution
Our neodymium magnets are very powerful and can be drawn to iron objects at high speed when they are within close distance. With the stronger magnets such as the 360° allround, it is possible that your fingers could get caught in between the magnet and other objects. Handle the magnets with care and use is at your own risk. Always read our safety warnings before use.
* Children must use the magnet under parental supervision.