Outside while playing outdoors, on YouTube in videos of that famous vlogger: everywhere your child encounters the hobby of magnet fishing! People retrieve a lot of old iron and sometimes even special items such as bicycles, money boxes and horseshoes.
To your child this seems like a great hobby and already several times he has asked you if he can have a magnet to go magnet fishing. In a few weeks he will have a birthday. You think it would be great for him to be outside and active more often, but you actually have a few questions about this hobby. Isn't this too dangerous for my child? Is my child actually allowed to go magnet fishing? And if so, which fishing magnet is best for my child? Curious about those answers? Then read on!
Can my child go magnet fishing?
The answer to this is very simple: yes. Everyone is allowed to go magnet fishing, but under some conditions. There are some places around the world where magnet fishing is prohibited. Before you go magnet fishing, check the website of the municipality in which you want to fish to see if there are rules about magnet fishing there.
It is also very important that you assess whether your child can go fishing with a magnet on their own. For young children, we always recommend supervised magnet fishing. This also applies to older children, but after a few times of magnet fishing together as a parent you can better assess whether he/she could do it independently at some point.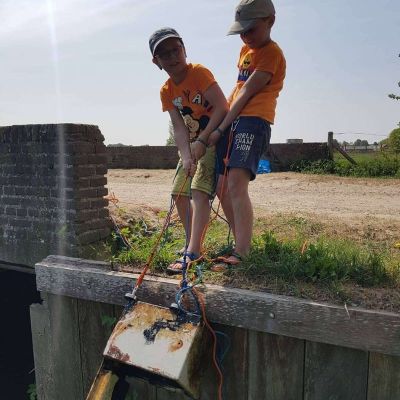 Tips for children
Always make sure you have a good fishing magnet. Choose one that fits your age well and is safe for magnet fishing.
Always put on gloves. This will protect your fingers when you need to remove iron from your magnet, for example.
Look for nice spots. Where will people throw stuff into the water? Think about bridges, for example!
If you fish something up that you don't know what it is, always let it sink back into the water.
Collect all the scrap metal in a bucket or box. After you've been magnet fishing a few times, you can ask your parents to go to the scrap metal store together. If you turn in your scrap metal here, you get money for it. That's a nice way to earn money! Check out the best finds from our customers here.
Do it together, with your parents, brother, sister or friends! It's much more fun and exciting. Who will uncover the most special items?
Tips for parents
For children, it is hugely important to wear gloves. Gloves will protect their hands from sharp objects, so they will avoid cuts or bruises. Try to get rubber gloves for them, as they are waterproof and provide a tight fit needed for magnet fishing.
Immediately teach your child to always clean up anything they fish up. For example, always bring a bucket or box or report a pile of scrap metal to the local authorities.
There are dangers to every hobby. Very occasionally, an explosive is fished up while magnet fishing. Always teach your child to lower objects he/she does not recognize back into the water. This will prevent dangerous situations.
Is your child old and wise enough to go magnet fishing on their own? Then always have them do it in a busier populated area. This way there is always someone around.
We always recommend going magnet fishing with your child. It is a fun outdoor activity where you look for beautiful objects together. Especially when children are younger you should not let them go magnet fishing alone. They should learn the tips & tricks first!
Which fishing magnet for which age?
This is a question we often get as magnet fishing specialists. It is a difficult question because one 8-year-old is not the same as another. One is bigger, wiser or has already experienced magnet fishing, while another is not yet strong enough for a slightly larger magnet or has never been magnet fishing before.
Want to go for a good and safe option? Then choose the magnet fishing kit named Kids package from Magnetar. This package includes a magnet that kids up to 10 years old can have a lot of fun with. The children's package includes The Easy, an all-round fishing magnet with a total pulling power of 280 kg. This magnet is protected by a protective cover that comes with the package. It is an accessible magnet for children with a perfect throwing weight. A magnet fishing rope and glue are included. This package comes with a discount, so it's extra cheap.
Want a slightly heavier magnet? The Hardcore all-round fishing magnet is still suitable for older children. Are you going magnet fishing with your father or mother? Then a special magnet fishing package will suit you best.
Magnet fishing with my child
Would you love to see your child get outside more often? Enthusiastic to go magnet fishing? Then choose a quality fishing magnet from Magnetar!