Want to buy a manhole cover lifter, but have no idea what to look for? We will give you some tips so that buying a suitable manhole cover lifter and/or manhole hook will be a lot easier.
There are professions in which sewer manholes, valve manholes or fire hydrant manholes are opened with some regularity. These can be quite heavy. Anyone who has done it more than once can attest to this. Fortunately, good tools can make the job easier. The best manhole cover lifters, such as the Magnetar THOR, allow you to adopt an ergonomic posture. This ensures less negative impact on health, which is pleasant for both the person in question and the employer.
Pit lifters and pit hooks are offered in different shapes and sizes. For example, there are simple manhole lifts with a single hook. You can also find products with magnets, hammers and other features that should make opening a multitude of heavy lids easier. Let's go over some tips for buying a manhole cover lifter below.
Buying the right manhole cover lifter for your situation
Not every well has the same lid, which makes sense. After all, in most cases a fire hydrant manhole is a lot smaller than a sewer manhole. It is therefore wise to ask yourself what functions a manhole cover lifter or manhole hook should have. Is a simple hook enough for you? Or is a magnet including a hammer and hook more useful for your particular situation?
Today there are also pit hooks available that can be used by two people at the same time. These products are usually only used for the most heavy-duty sewer manholes and when there are actually two people present to operate the manhole hook.
Multiple function in one manhole cover lifter
Experience shows that it is convenient to buy a manhole cover lifter with multiple functions. There are several reasons for this. Consider, for example, a situation where that one sewer manhole or fire hydrant manhole really doesn't want to open. When you don't have the right tools, you face quite a challenge. A product with multiple functions saves you from this kind of situation. After all, a hook, hammer and magnet are always within reach. You can lift with a magnet, grab with a hook, and hit with a hammer.
In addition, such an all-in-one solution does not take up much space. A manhole cover lifter such as the Magnetar THOR has a length of only 67 cm and a width of 21 centimeters. You can easily store it in a company vehicle.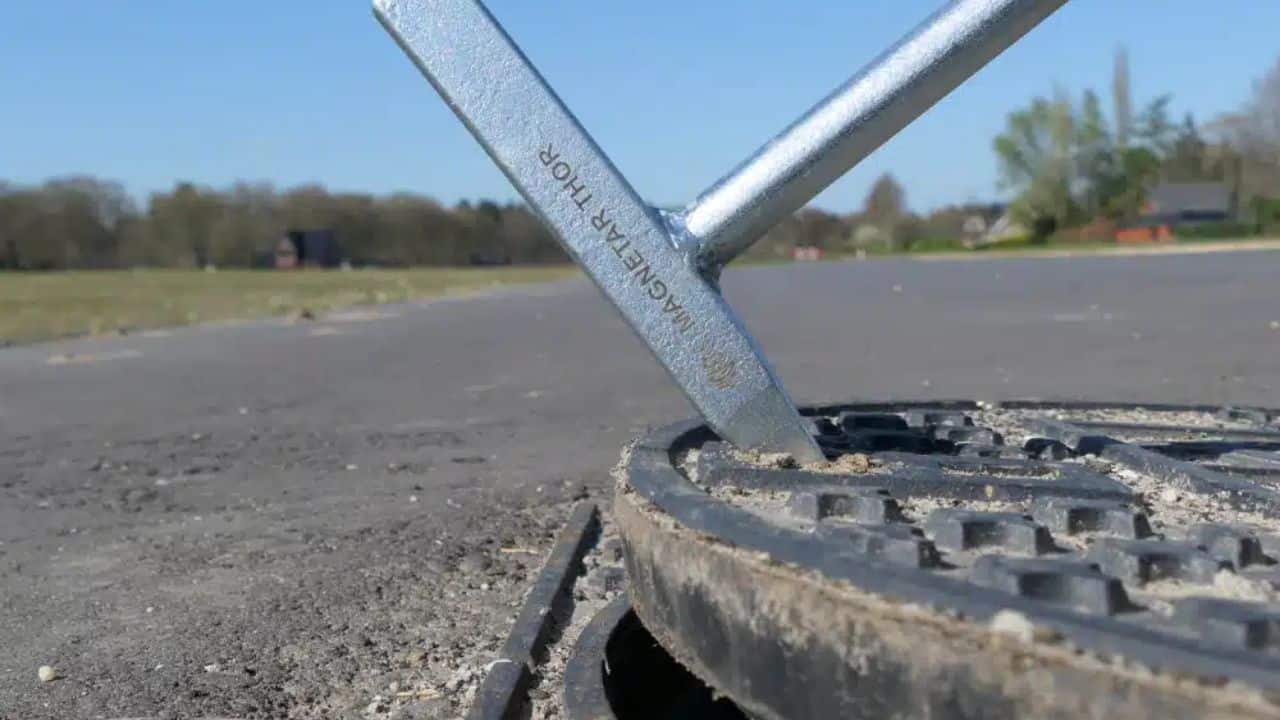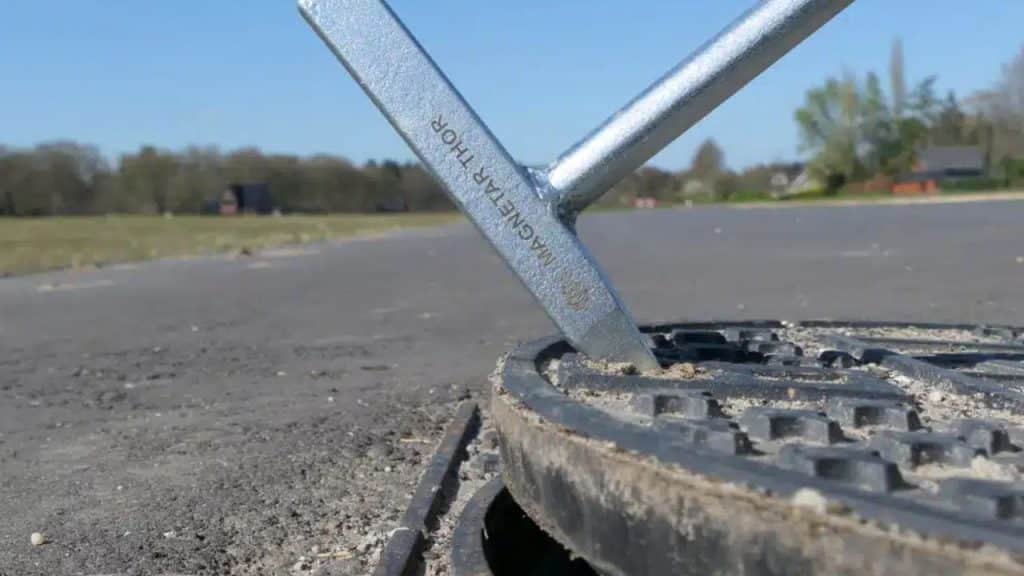 Pay attention to the type of magnet
Buying a manhole cover lifter including a magnet is a smart choice. After all, it gives you the ability to remove the lid of a manhole while standing upright. However, not every magnet is equally strong. It is wise when buying a product with a magnet to see what it is made of. We recommend choosing a magnet made of neodymium. After all, these are the strongest and are often used in other activities, such as magnet fishing.
Buying an indestructible manhole cover lifter
It may sound simple, but it is anything but unimportant. A manhole hook or manhole cover lifter should be of excellent quality. The right materials make the product indestructible. For manhole hooks, this is hugely important. Opening a sewer manhole, valve manhole or fire hydrant manhole involves quite a bit of force in some cases, especially when using a manhole cover lifter with a hammer function. Usually, solid steel (galvanized or stainless steel) is an excellent choice. Is the product not solid? If so, ask about the steel thickness.
Obviously, purchasing a manhole cover lifter is not easy. We recommend first determining what features are required for your specific situation and taking the next steps from there.