Sale!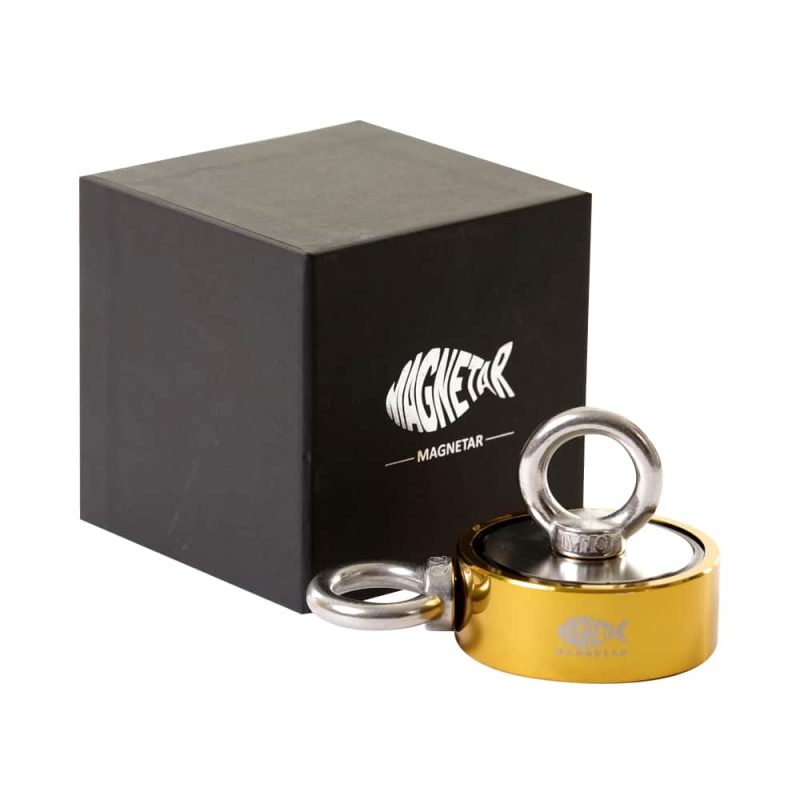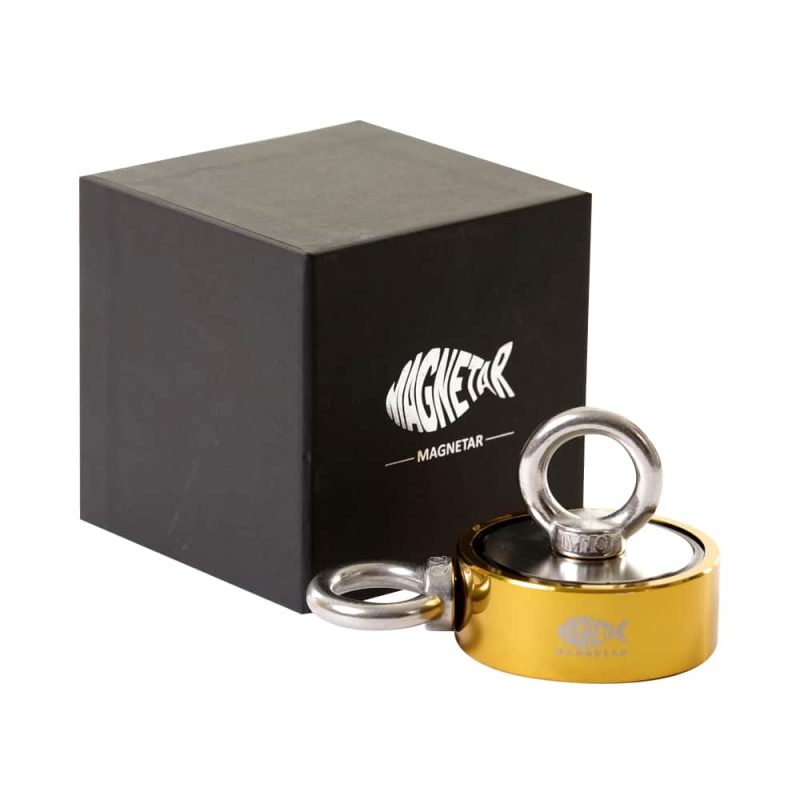 Bulldog 500 – double sided – 1100lb / 500 kg
From: $109.99
Double attractive with 2 X 250 kg pulling power. Doubles your catching chance!
Based in the U.S. and EU
Free shipping available*!
Shipped the same day!
Worldwide shipping!
30-Day return period!
Customer Support within 48 hours!
Essentials and recommendations:
Attributes
Pull force lb 2 sides

2 X 550 lb = 1100 lb

Pull force kg 2 sides

2 X 250 kg = 500 kg

Direct pulling force

550 lb / 250 kg

Distance attraction

4 inch / 10 cm

Magnet type

Double sided

Material

Neodymium

Diameter

75 mm Ø

Magnet height

28 mm

Weight

1100 g 2.4 lb

Screw eye

M10
Product description
The Magnetar Bulldog 500 is the little brother of the Magnetar Bulldog 800 double sides fishing magnet. Our Bulldog magnet attracts all objects that are in the water. This is because of its combined magnetic pull of 500kg. The magnetic pull is divided over two magnets with a magnetic pull of 550lb/250kg each: so you are always fishing with a magnetic pull of 550lb/250kg on each side. This increases the chance of of finding objects because of the increase of the magnetic field. The Bulldog has a double-sided magnetic pull with a ring casing which protects the magnet. Are you looking for a more powerful double sided magnet? Check out our Bulldog 800 here. 
The double-sided Bulldog 500
Our Bulldog magnet attracts all objects that are in the water. This is because of its combined magnetic pull of 500kg. This magnetic pull is divided over two magnets with a magnetic pull of 550lb/250kg each. The promised pull of 250kg will only be reached in perfect conditions. These conditions are: flat metal with a thickness of 2 cm, no rust and no mess between the magnet and the metal. You can pull 250kg straight up in these conditions.
The difference between the double sided magnet and the one sided magnets is that you can fish in two ways instead of one. You can attach the included eye bolts in whatever way you want them. If you want to pull the magnet flat out through the water (which increases the chance of finding objects) you can attach the eye bolt on the side of the magnet. Because of the two magnets on the double sided magnet, it will always face the possible treasures.
A negative effect of horizontal magnet fishing is that the magnet can exercise less pull on an object. The magnetic pull is best when fishing vertically. If you want to have some extra magnetic pull you should attach the eye bolt vertically on the magnets surface. By doing this you will be able to pull out heavier objects, just like our classic magnets. The different ways of using this magnet makes is multifunctional.
Don't forget to checkout our magnet fishing equipment or go for the best magnet fishing kits.
High quality
Our fishing magnets are made from the best neodymium around what makes them one of the best fishing magnets in the market. This will mean that our Magnetar magnets keep their magnetic pull and will only lose 1% of that pull in after 100 years! Most other suppliers sell magnets that will lose that kind of percentage in only a few weeks. More and more of those kind of low quality magnets are showing up these days. These magnets contain a low quality neodymium. They do this to lower the price and make the magnet look larger. When purchasing such a magnet you will be throwing away money.
All our magnets are personally drawn, and designed in a way in which you will get the most out of your fishing experience. We test our magnets with professional equipment so the amount magnetic pull we claim is accurate. We know exactly what the best way is to design a magnet, because of our experience in magnet fishing. You can experience this yourself with our high quality, powerful and reliable fishing magnets. Curious about the way we test the magnetic pull? Check our video here.
Caution!
Our neodymium magnets are extremely powerful and could latch onto metal objects with high speed when they are in close range. You definitely do not want to get your fingers in between. With some of our most powerful magnets you could easily shatter, break or get blisters on your fingers if your fingers get in between a magnet and a metal object. Always be careful when you use our magnets. Caution: Use of our fishing magnets is at your own risk. Always read our safety warnings before use.