Sale!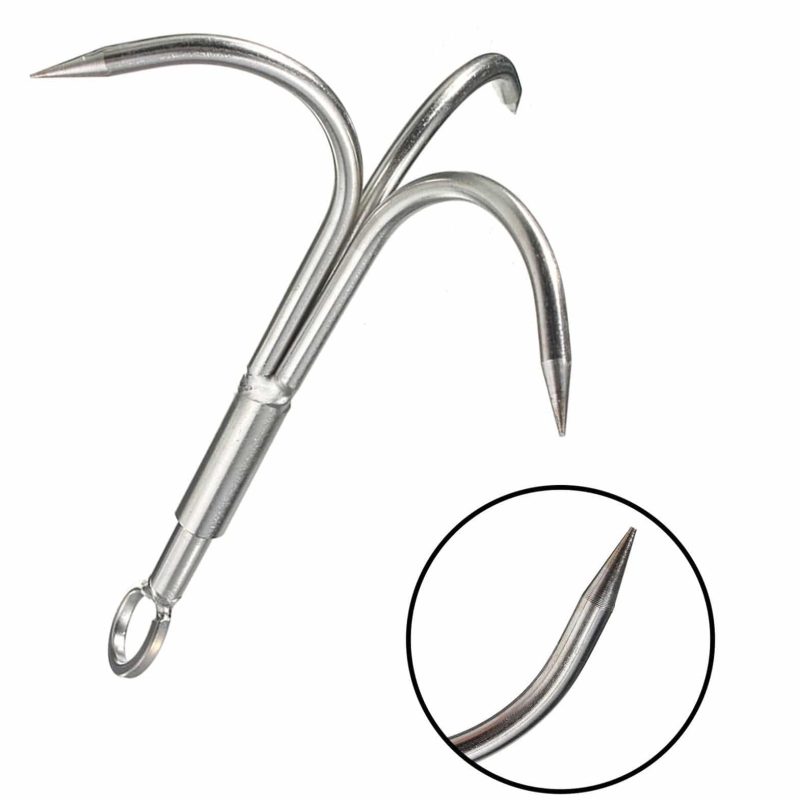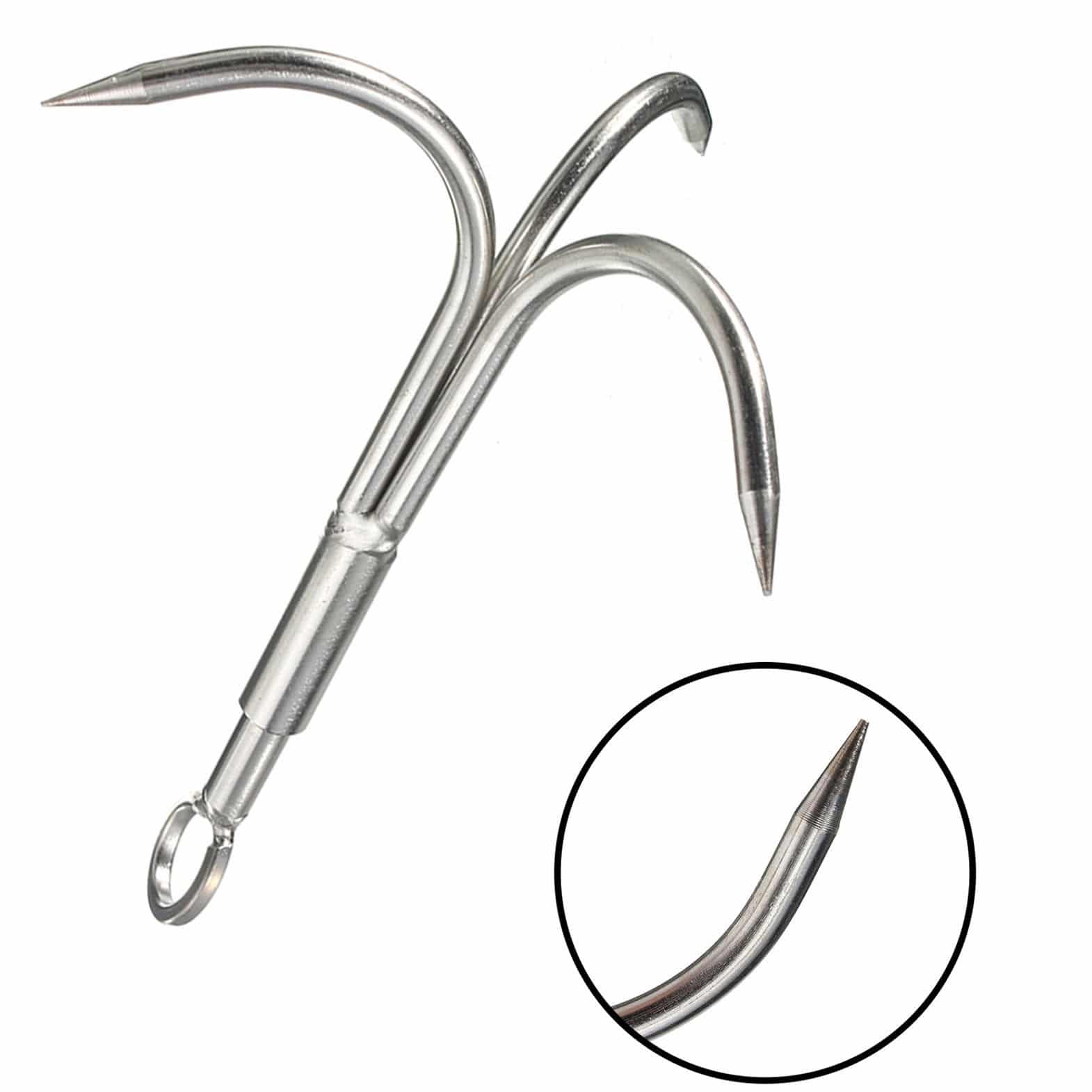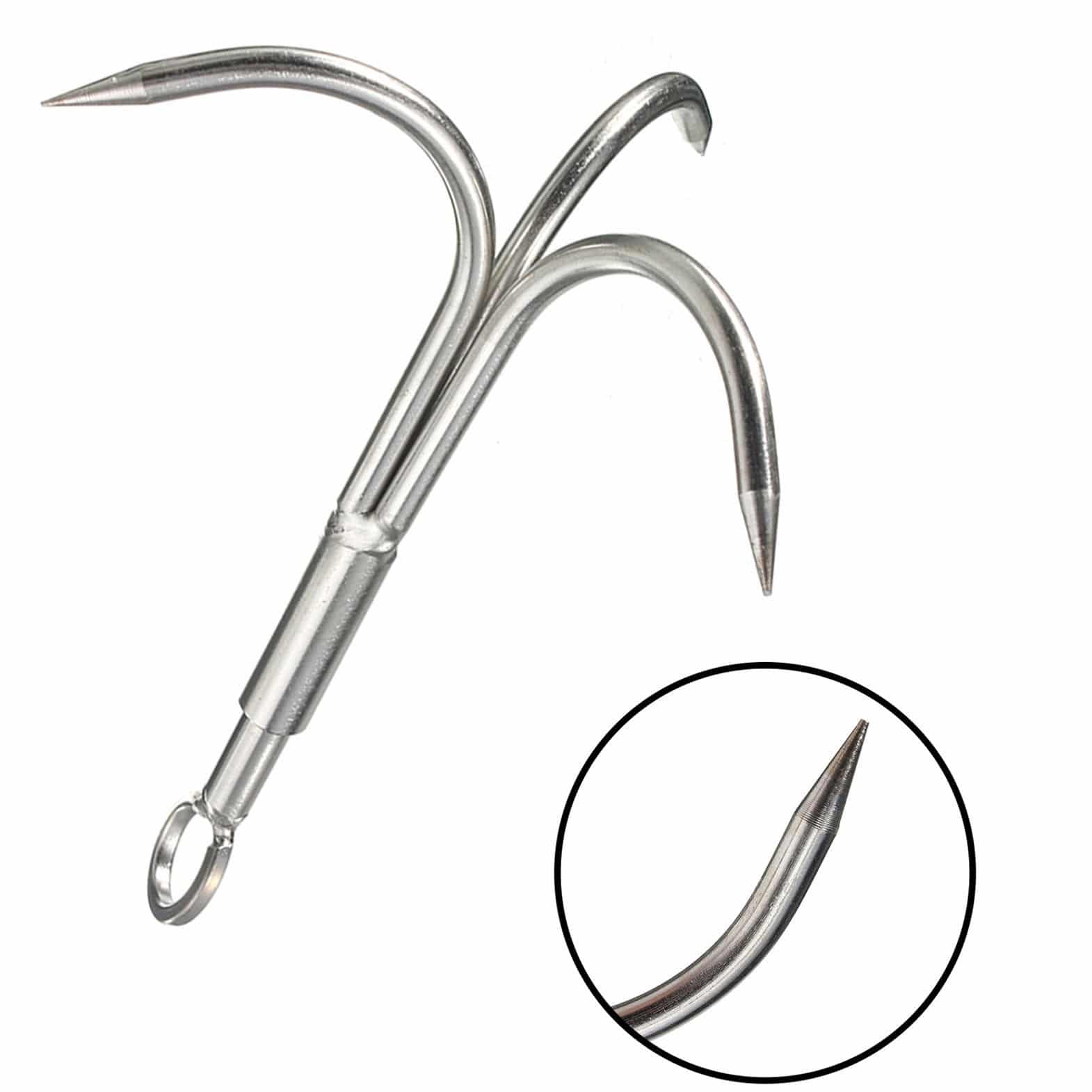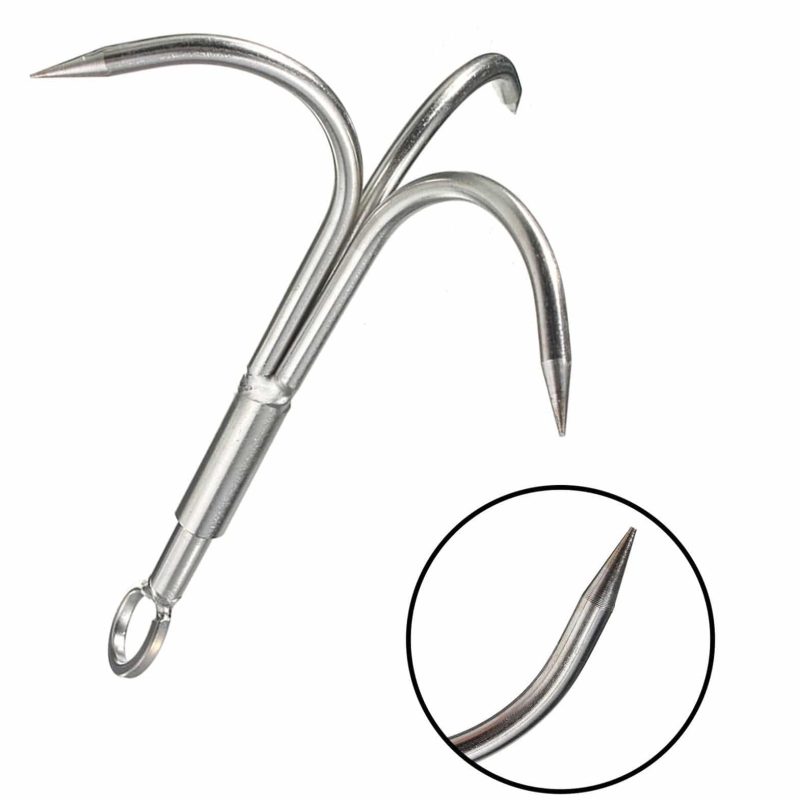 The best grappling hook for magnet fishing
Our state-of-the-art grappling hook is perfect for retrieving underwater items that are non-magnetic, oversized, heavy, partly magnetic or oddly shaped. Whether on the shore or on a boat, it can help you retrieve many interesting items.
We have found that it's most useful as an accessory to your fishing magnet. There is nothing more frustrating than having your magnet attached to your own equipment and not being able to pull your item out of the water. Using a hook will increase the usage and pull force of the magnet to find even bigger, better and more memorable treasures. 
In stock
Based in the U.S. and EU
Free shipping available*!
Shipped the same day!
Worldwide shipping!
30-Day return period!
Customer Support within 48 hours!
Essentials and recommendations:
Attributes
Length

19 cm

Hook length

15,5 cm

Material

Stainless steel

Weight

8,8 oz / 250g

Tips Shape

Sharpened

Protection

Protection caps included
Product description
What are grappling hooks?
It is a device that is attached to rope and thrown or sunk into water to catch, hold, grab and drag an item out of water. Different grappling hooks are used for tree climbing, but we recommend this adventure tool for heavy duty magnet fisherman.
They can be used alongside a Neodymium Magnet or in place of one when treasure hunting underwater. If you are interested in catching oversized, non-magnetic, heavy or oddly shaped items then a grappling hook will help you bring them to the surface. 
I already have a magnet, do I need a grappling hook?
Not necessarily, but it's highly recommended. 
Most people who magnet fish will say that a magnet fishing grappling hook is essential. Our Neodymium Magnets are ideal for catching magnetic metal objects of various sizes, shapes and densities. But sometimes you need the sharp edges of a grappling hook to get an item out from under a rock or to bring the item to the surface. 
It's like anything - you need the right tools to get the job done under different conditions. Having additional tools like our stainless steel grappling hook will help you increase the range and versatility of the types of treasures you can find. Both the grappling hook and fishing magnet work on their own but they are stronger together. 
What materials are non-magnetic?
Magnets will help you catch magnetic materials. While all magnetic materials are metal, not all metal is magnetic. The following table provides an overview of materials and items that you can attract with your magnet or catch with your hook:
| | |
| --- | --- |
| Magnetic | Non-magnetic |
| Iron (pots, pans) | Aluminum (cans, utensils) |
| Nickel (coins) | Copper (coins) |
| Cobalt (screws, bolts, tools) | Lead (batteries, weights) |
| Steel (pipes, railroad, automobiles) | Brass (musical instruments) |
What can I find while grappling hook fishing?
Oversized or heavy finds - if you find a heavy item with your fishing magnet, the additional use of a hook will help to increase the pull force of the magnet and get the object out of the water. You may also have additional control as you pull the object out of the water more easily.
Non-magnetic items

-  include materials like copper, aluminum and gold. Items that contain these materials may not be retrievable without a hook. It is comparable to fish hooks, you don't necessarily need bait but it will help you find way more species!

Partly magnetic items - If an object is made up of magnetic and non-magnetic materials, a magnet will help you find it but it is likely that you will not have as tight lines or strong a grip.
Oddly shaped items - Whether it is hand guns, unexploded bombs, gear, tools, and other bigger finds - you will be surprised at what you can find!
And much more! 
How to use magnetic fishing hooks? 
If there's something that your magnet cannot pull from the water, whether it's too heavy or awkward or non-magnetic, it's time to use your grappling hook. 
How to secure a hook to rope: Attach your rope to the end of the hook with the carabiner (included with purchase of our Magnet fishing Rope). Or, tie a loop through the hook with a Palomer knot (watch Reinout's tutorial here). Make sure the rope has a firm hold on your hook.
How to use the hook with a magnet: Your fishing magnet may find something underwater that it is not able to retrieve on its own. If this happens, leave your magnet and line in the water. Secure your hook to the rope (instructions above) and throw it into the water in the same direction as your magnet. Once an object is caught that your magnet is attached to, pull both lines at the same time to navigate the item back to land. 
How to use the hook on its own: If using the hook on its own, secure it to a rope (instructions above), throw your hook into the water and let it sink. Drag the hook along the floor as you navigate the rope towards you. If its claws catch something with edges you will be able to drag it ashore. For your next toss, throw the rope one meter from the previous location to cover a reasonable area.
Remember: be patient and pull your hook out of the water slowly to ensure that items do not slip off. 
What to look for in a hook?
There are two things you want to look out for when purchasing a hook:
Material

- You want to look for hooks that are made from high quality stainless steel because it is strong, light-weight, durable and resistant to rust and other damage.

Measurements

- the Magnetar hook is 19cm long and 15.5cm wide. After years of testing various hooks our team agrees this is the perfect dimensions for travel, throwing, carrying and dredging large or oddly shaped objects out of the water. If it is much bigger than this it may be awkward or too heavy to throw. If smaller than this, the hook may be too narrow for objects underwater.
Grappling Hook vs. Fishing Magnet: which one should I use?
Extra strong and made of stainless steel, the grappling hook is the ultimate accessory to magnetic hooks. Weighing only 290 grams, you can easily cast the grappling hook far out into a lake, stream or river to reach more objects! Different grappling hooks will have non slip saw tooth designs, but we chose a sleek stainless steel design that is serious about catching big objects and lets seaweed slip away. 
If you have to choose between grappling hooks and fishing magnets, we recommend fishing magnets as the primary tool for this sport. Although most grappling hooks tend to be a handy tool.
We have three types of fishing magnets, all of which are made up of Neodymium. We offer a range of neodymium magnets of various strengths including the single-sided, double-sided magnets and 360 allround magnets. However, a grappling hook is the next best thing as it compliments magnetic hooks and increases the amount and range of treasures that you will find. 
Explore our magnet fishing kit page to find a kit that includes all of the accessories that you will need for your next magnet fishing adventure:
Nylon rope for increased visibility and throwing distance

Gloves for extra grip on your rope

Grapple hook 

Neodymium magnet 
Care and Storage Instructions
For the same reason you have to dry your magnets after using them, it is a good idea to dry your grappling hook before storing them. To keep your magnet fishing tools protected so they will last a long time, you also want to make sure that the pointed ends are carefully and safely stored. 
For safe storage, you can always take a look at our storage case.
When will it be delivered?
For the US and Canada we offer same-day shipping. Expected delivery in 2 to 4 business days. In Europe we offer fast shipping to The Netherlands, Belgium, Germany Luxembourg, and Austria. Ordering from another country? You will receive your order within 4 working days.
What is the delivery fee?
Free delivery to the US, Canada, Netherlands, Belgium, Germany, Luxembourg and Austria. UK residents are required to pay an import tax. Ordering from another country? Review our shipping policy here.
What is your return policy?
For information related to returns and requesting a full refund click here.