Sale!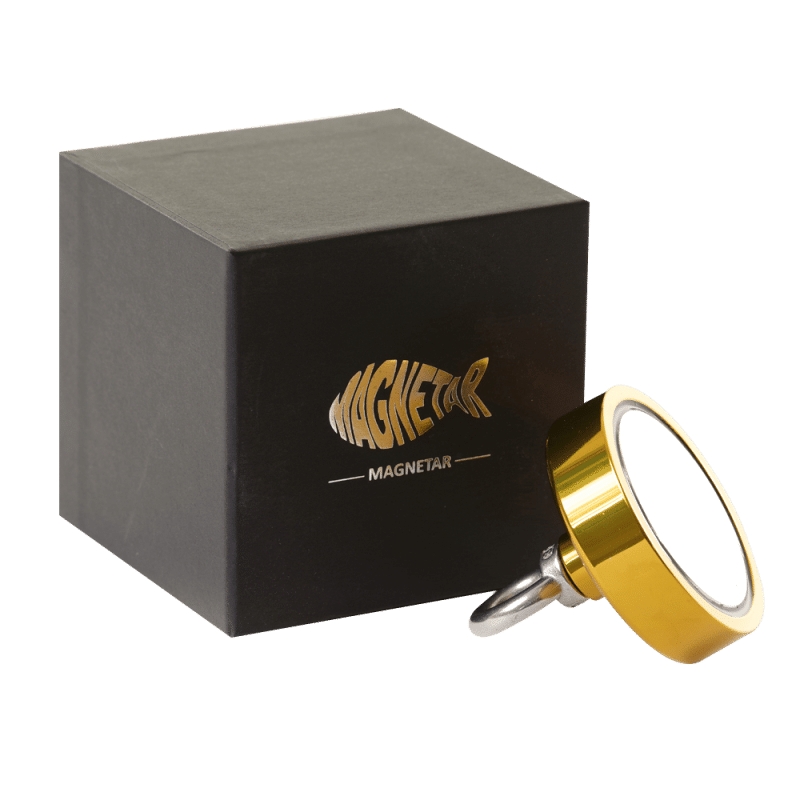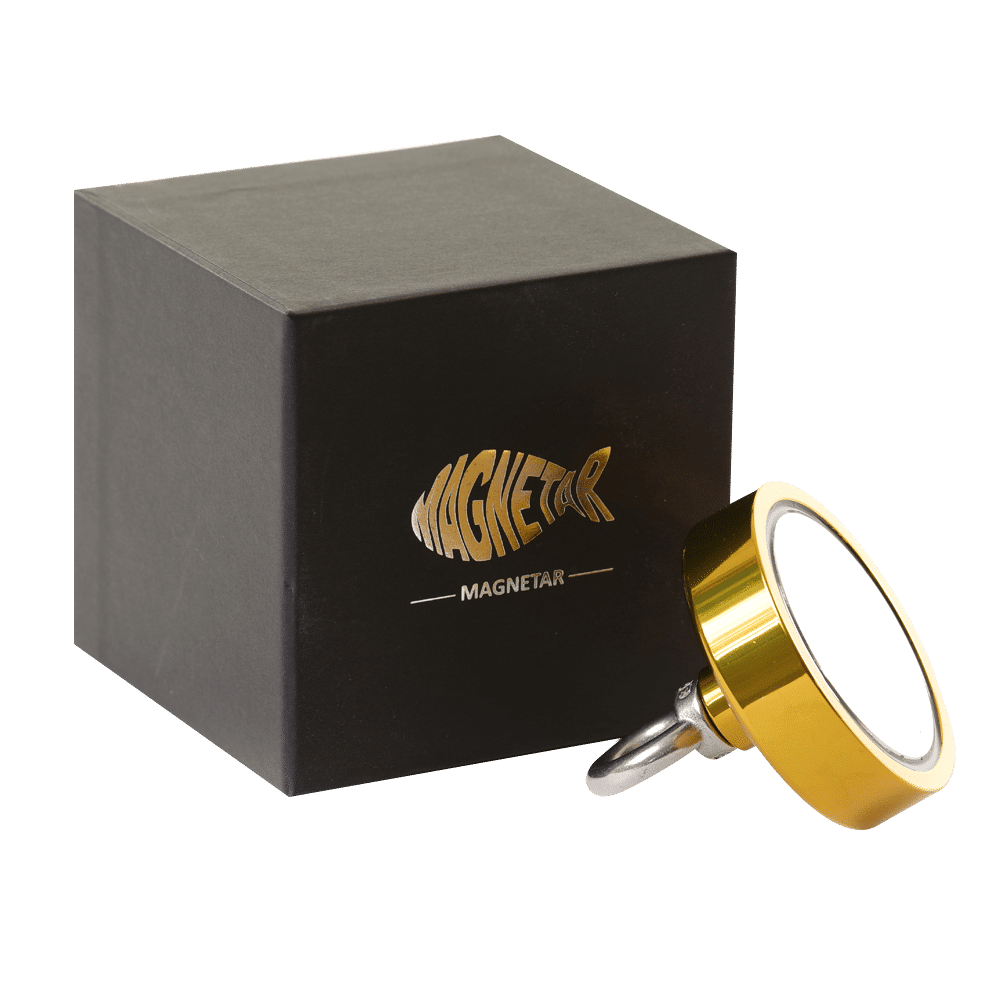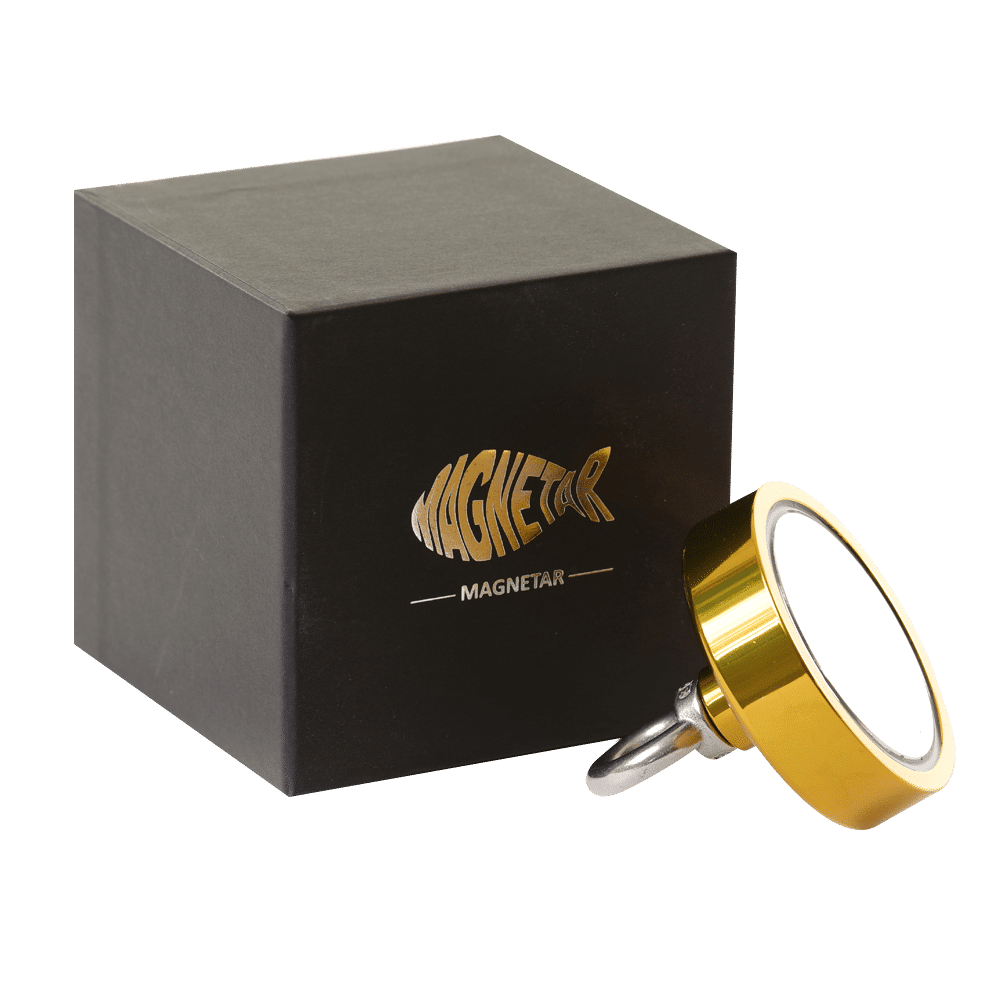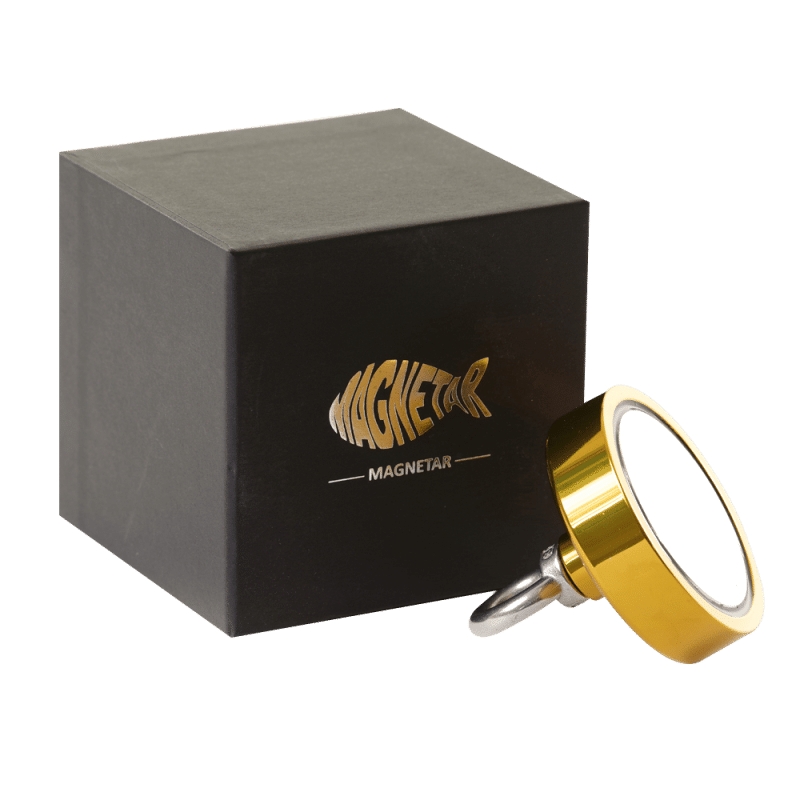 Classic Fishing Magnet Gold 440LB/200KG
The true classic, the impact-resistant and safe fishing magnet. Now extra affordable!
Essentials and recommendations:
Attributes
Magnet type

Classic

Pull force type

Under side

Material

Neodym

Weight

364 g / 0,8 lb

Diameter

63 mm Ø

Magnet height

15 mm

Height with screw eye

65 mm

Screw eye

M8

Max. Temp.

80° C
Product description
Neodymium magnet with casing

Suitable on our

pokestick

Impact proof

Suitable for beginners/children 

Delivered in a present box

Recommended rope:

6mm
The classic 200 fishing magnet is a one sided neodymium fishing magnet and has a maximum pull of 200kg. The classic 200 fishing magnet is recommended for people that are new to magnet fishing and want to find out if it could be their new hobby. If you want to become an expert in magnet fishing, we recommend that you buy a stronger magnet. For example one out of our exclusive product range.
Classic 150 fishing magnet 200kg /

440lb
Are you looking for a great gift for your kid? Or do you want to start magnet fishing yourself? Then you should check out the classic 200! The Magnetar classic 200 is a neodymium magnet with a maximum pull of 200 kilograms. It is one of the lighter fishing magnets in our product range. This magnet is very suitable for beginners that want to collect small objects. The bottom of this magnet is fully magnetic and has a metal casing. The casing is applied to prevent impact or fall damage. Our magnet fishing advice is to fish with at least 200kg of pull. 200kg sounds like a lot of pull, but the full pull will only be reached in perfect conditions. These conditions are: flat metal with a thickness of 2 cm, no rust and no mess between the magnet and the metal.You can pull 200kg straight up in these conditions. 200kg of pull is the least amount of pull if you want to pull big objects out of the water. Are you looking for an all round affordable magnet? Check our exclusive easy fishing magnet here. 
High quality
Our magnets are made from the best neodymium around. This will mean that our Magnetar magnets keep their magnetic pull and will only lose 1% of that pull in after 100 years! Most other suppliers sell magnets that will lose that kind of percentage in only a few weeks. More and more of those kind of low quality magnets are showing up these days. These magnets contain a low quality neodymium. They do this to lower the price and make the magnet look larger. When purchasing such a magnet you will be throwing away money. All our magnets are personally drawn, and designed in a way in which you will get the most out of your fishing experience. We test our magnets with professional equipment so the amount magnetic pull we claim is accurate. We know exactly what the best way is to design a magnet, because of our experience in magnet fishing. You can experience this yourself with our high quality, powerful and reliable fishing magnets. Curious about the way we test the magnetic pull? Check our video here.
Caution!
Our neodymium magnets are extremely powerful and could latch onto metal objects with high speed when they are in close range. You definitely do not want to get your fingers in between. With some of our most powerful magnets you could easily shatter, break or get blisters on your fingers if your fingers get in between a magnet and a metal object. Always be careful when you use our magnets. Caution: Use of our magnets is at your own risk. Always read our safety warnings before use.